Upper Transaxle Mount
The potential issue with the lower bell housing studs breaking was fully addressed by this fix, but I still felt there was room to improve the torsional stability of the engine-transaxle assembly. There is basically two reasons that prompted me to want to make an improvement:
1.) VW use to mount the top of the transaxle bell housing to the body on the old buses. These mounting holes in the top of the bell housing are still there, but no longer used in the newer Vanagons.
2.) The JDM Subaru WRX STi my engine came from had an upper transmission mount. Also, many USD Subarus have these upper mounts.
Since syncro Vanagons have the gas tank in the rear, building a mount that bolts on the firewall wasn't really an option. Instead, a complete crossbar assembly was fabricated just for this upper mount.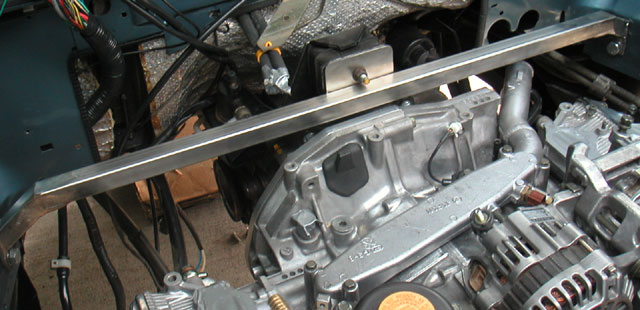 I used a stock Subaru engine mount as the rubber joint between the crossbar and transaxle.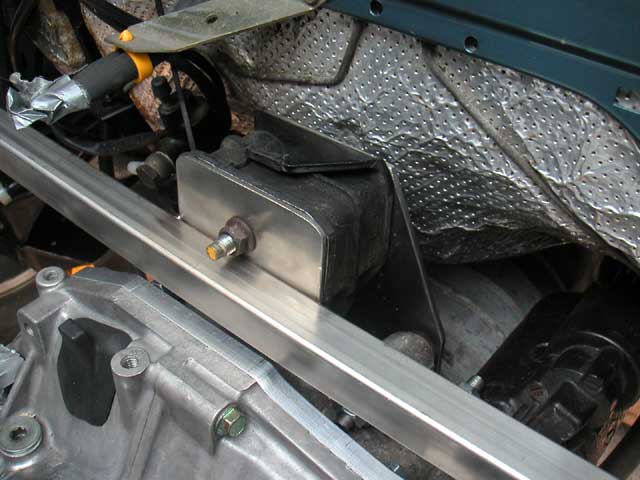 The bar is made of stainless steel, but was later painted to match the factory blue color of the engine compartment.
The purpose of this upper mount is for adding torsional stability, not to support the weight of the engine-transaxle like the lower engine mount.